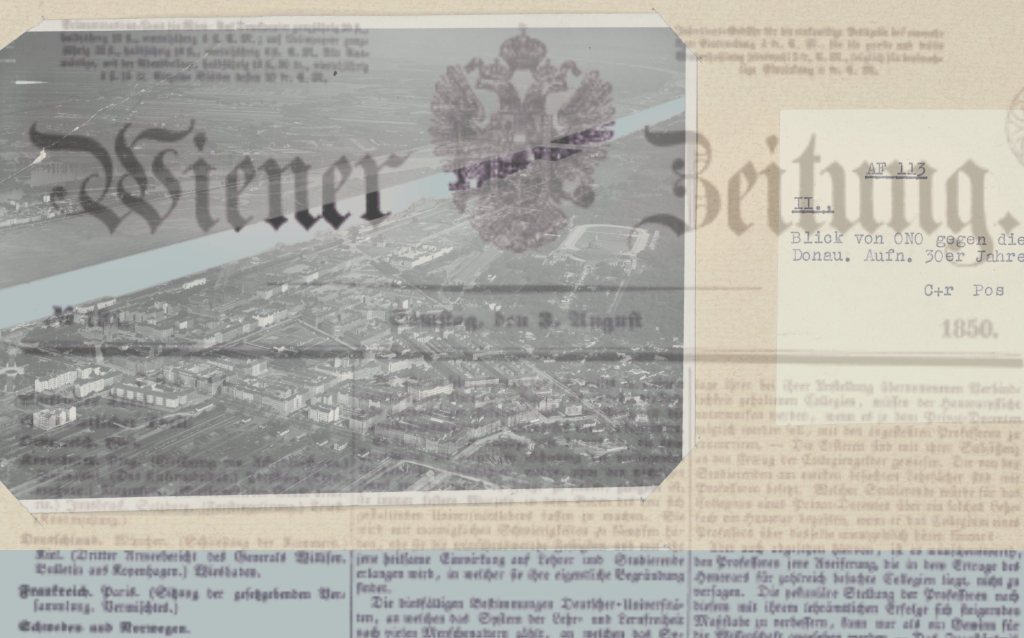 The second ONB Labs Web Residency ran from April 2022 until the end of June. Two residents engaged with historical materials in two very different formats. Both will be presented in the ONB Labs Artspace in September 2022.
In April 2022 the ONB Labs launched a call for two Web Residencies to support artistic engagement with digitized archival resources. For the call two very different datasets were offered, issues of the "Wiener Zeitung", one of the oldest newspapers worldwide, on the one hand and a collection of aerial photographs from the first half of the 20th century on the other.
The call was open for all genres whether physical and/or digital, poetical, visual, audio or any other genre that can be presented in a web browser.
We were impressed by the wide range of different applications we received. For the selection the ONB Labs team cooperated with two artists, Seth Weiner and Heike Fiedler, who work in different fields, and enriched the selection process with their different viewpoints. Taking into consideration a set of criterias, like innovation, feasibility and critical impetus among others, two applications were finally chosen for a funding.
The Berlin based artist Sînziana Păltineanu handed in a proposal for a "piece of interactive ficition, based on a selective reading of the digital collection of "Wiener Zeitung", titled "Anachronistic rotations". Over the course of the residency Sînziana Păltineanu further expanded the concept to a fictious walk through the "Wiener Zeitung". Sînziana Păltineanu is – as noted in the application – interested in using fiction as an exploratory mode of writing based on archival research. Curator Seth Weiner was convinced by the idea as well as the use of the web browser for the narrative structure of the artwork. Heike Fiedler noted that "the experimental author Dr. Sînziana Păltineanu will take us into hidden spaces, going far beyond the one-dimensional aspect of words written on paper."
The Vienna based artist Ida Westh-Hansen won the second residency for her concept on melting snippets from the public archive in an artwork of mixed materials, namely ceramics and paper. Her artwork may be interpreted as a stage for a "drama with landscapes and places". Seth Weiner was "taken by the sculptural sensibility" shown in her portfolio and by the way "the work seems to operate with an acute sense of how material, both in its heaviness and fragility tells stories." How Ida Westh-Hansen would combine the different materials and then translate the material artwork to a series of digital images, was promising for Heike Fiedler.
The ONB Labs Team will now integrate both artworks into the ONB Labs Artspace. The results will be presented in September. Watch out for the upcoming blog post on open-digital-libraries.nl as well as on labs.onb.ac.at.