Throughout the ONB Labs Art Program program, four artists—Lisa Puchner, Katharina Birkmann, Miguel Rangil, and Valentina Rodríguez Morales—harnessed the resources of the ONBs digital collections, such as the AKON archive, Botanical Illustrations, ANNO, and Travelogues, to create thought-provoking and innovative pieces. Each artist brings their unique perspective, employing diverse techniques and media to explore themes ranging from sound and image connections to memory, hyperconnectivity, and the reimagining of narratives.
Lisa Puchner – Horizon Noise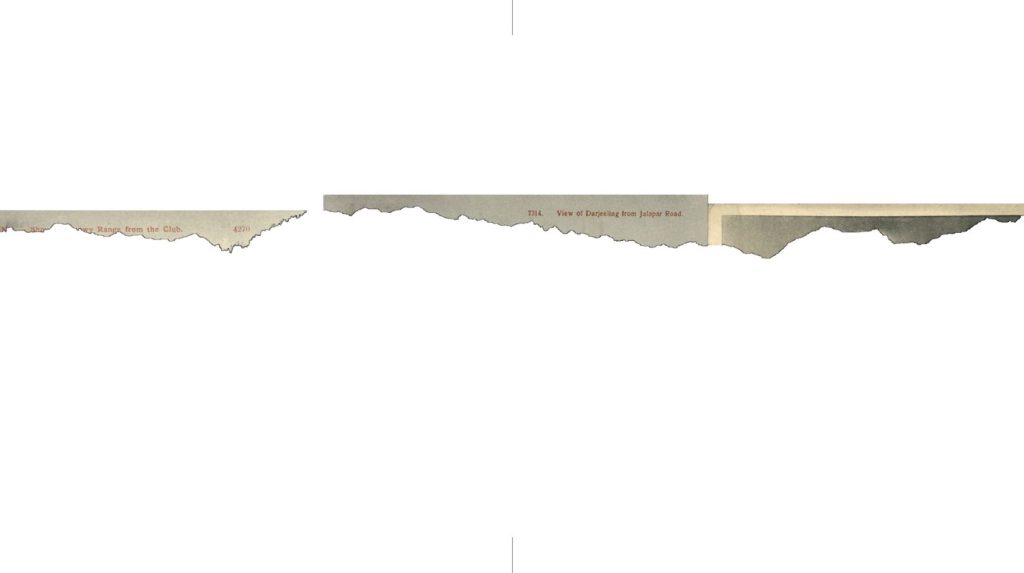 Lisa Puchner, a multidisciplinary artist with a background in sculpture, film sound technology, and radio production, explores the interplay between sound and image, as well as the concepts associated with sound and found structures in her artistic practice. As part of the ONB Labs Art Program, Puchner delves into the digital collection of postcards from the AKON platform, employing them as a source to abstract sound lines.
In her artwork titled "Horizon Noise," Puchner harnesses the symbolic significance of the horizon depicted on postcards to set the tone for her exploration. While the visual representation remains abstract, the horizon itself represents notions of distance, travel, and desires. Just as postcards serve as projections of an idealized place, they also become screens that shape our perception of the horizon and the view it offers. Puchner's artistic process involves reimagining and visiting different places through the acoustic translation of the horizon's thin line between the earth and the sky. The absence of the actual built or natural landscapes depicted on the postcards is filled with the evocative melodies of the horizons.
Through this audio-visual experience, Puchner prompts the audience to listen closely to the differences in melodies between horizons, whether they are natural or man-made, mountainous or coastal. By abstracting and translating these views, she invites us to reconsider the aesthetics of historical postcards and how they shape our perception of a place. With a simple click, viewers can immerse themselves in a sonic journey that unveils the nuances and contrasts between various horizons, enabling a new perspective on the relationship between sound, imagery, and our understanding of place.
https://labs.onb.ac.at/artspace/horizon-noise
Katharina Birkmann – Flower City Venice or The Electric City. Exterritorial.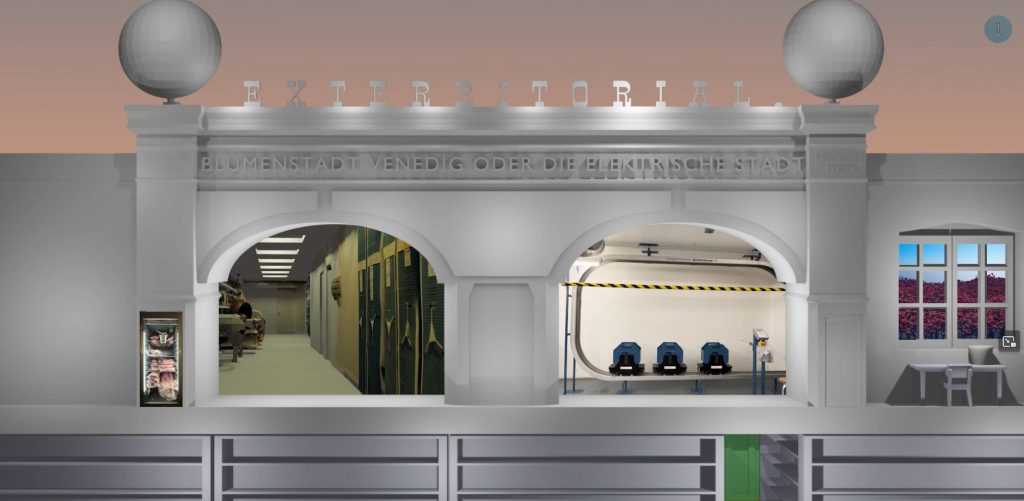 Katharina Birkmann, an artist with a focus on cross-disciplinary practices such as moving images, documentary theatre, and narrative multimedia installations, delves into the theories and practices of memory and spatial organization in her work. As part of the ONB Labs Art Program, she embarks on an exploration of various collections of the ONB, including Botanical Illustrations, ANNO, and the postcards, as well as the physical archive space itself, to create her thought-provoking piece titled "Flower City Venice or The Electric City. Exterritorial."
In her artistic process, Birkmann delves into the notion of memory tied to specific places and the spatial arrangement of information, which has a long-standing tradition. She notes that even the term "archive" itself, derived from the Greek word "archeíon," meaning "office" or "building," implies the need for accommodation of documents. However, she highlights that, unlike fictional memory architectures, archival buildings conceal their fictional and fantastic nature behind a façade of neutrality. Through her exploration of virtual archives, Birkmanns work aims to simultaneously exist within the realm of space, reanimating hybrid impressions of space, time, memory, and knowledge.
Within her piece, Birkmann focuses on the historical development of the Würstelprater, a famous amusement park in Vienna, since 1895. This iconic location serves as a bridge between real places and fictional architectures, introducing intriguing concepts of representation, authenticity, visibility, and stories of simulation, re-naming, and virtuality. By utilizing the archival materials and embracing the potential to make archives experiential in a spatial context, Birkmann crafts scripts for storytelling, whether they be documentary or fictional in nature. This approach enables viewers to engage with and actively participate in the process of experiencing and actualizing history as a dynamic and captivating narrative.
https://labs.onb.ac.at/artspace/flower-city-venice
Miguel Rangil -Hyperconnected Past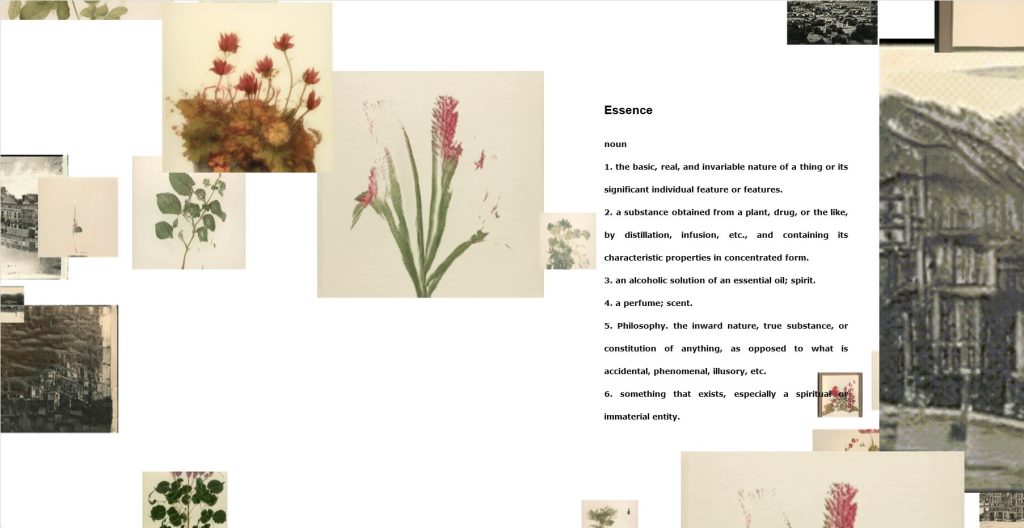 Miguel Rangil, an artist from Spain working in Austria, dedicates his research and artistic production to exploring new strategies in contemporary art that address the hybrid nature of humanity and the complex interplay between technology and nature. Within the ONB Labs Art Program, Rangil delves into the profound impact of Artificial Intelligence (AI) and how it not only shapes our future perception, understanding, and interactions but also influences our understanding of the past.
Rangil poses intriguing questions about the potential of AI as a tool that can reveal the essence of things and unify diverse datasets. To explore these questions, his project titled "Hyperconnected Past" employs various image generation and recognition methods based on machine learning, including StyleGAN2 and Computer Vision. Leveraging the ONBs digital collections of AKON and Botanical Illustrations, Rangil creates a concise web essay that offers a retrospective look into the essence of images.
By harnessing the power of AI and drawing inspiration from historical archives, Rangil seeks to uncover connections and patterns that transcend the boundaries of time. Through his exploration, he aims to shed light on the essence of images and their role in shaping our understanding of the past. "Hyperconnected Past" serves as a thought-provoking exploration of the symbiotic relationship between technology and humanity, revealing new perspectives on the complexities of our hyperconnected world.
https://labs.onb.ac.at/artspace/hyperconnected-past
Valentina Rodríguez Morales – Echoes of Experience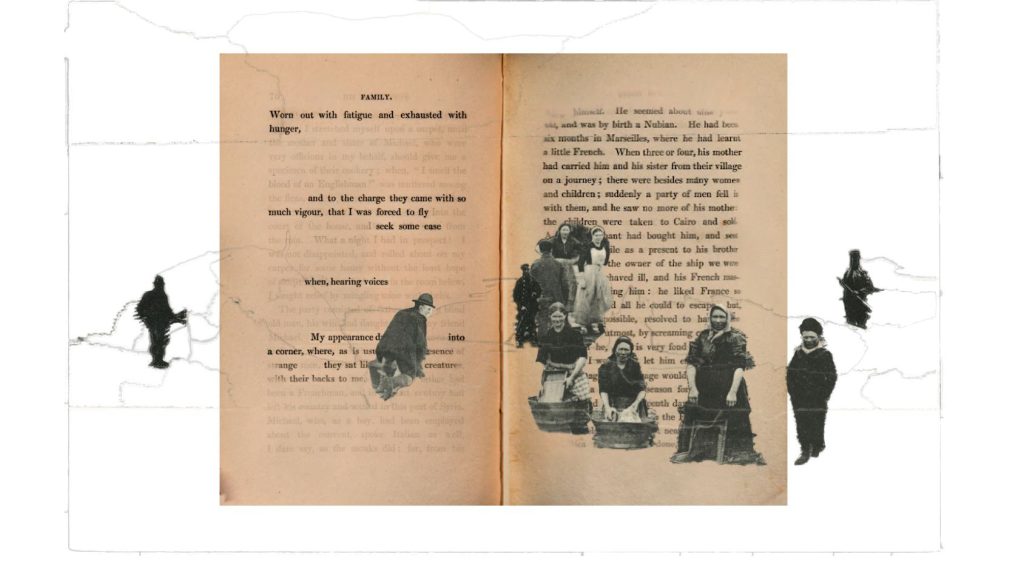 Valentina Rodríguez Morales, an artist from Colombia living and working in Austria, employs a creative methodology that seeks to reinterpret archival images using various techniques and media. Her focus lies in studying the image as a historical object, exploring its role as a document capturing a specific moment or as a recurring node that transcends time. By delving into these images, she uncovers new possibilities within unconventional narratives, establishing a compelling dialogue between the present and the past.
In the ONB Labs Art Program, Rodríguez Morales created her project titled "Echoes of Experience," which takes the form of a digital open letter. Drawing inspiration from the Travelogues and AKON archives in the library's digital collection, the project originates from her personal connection to the archive and her experiences as a migrant. The project's foundation lies in the reconfiguration of collected texts, giving rise to a new metafictional archive that explores the sensations of foreignness and exoticism associated with arriving in a new territory, along with the stereotypes that accompany such experiences.
Visitors to the project are invited to navigate the narrative in a non-linear manner, allowing them to engage in an exercise of empathy and exploration of the unfamiliar. Through this immersive experience, individuals are encouraged to discover connections between their own experiences and the foreign landscapes depicted within the archive. "Echoes of Experience" invites viewers to reflect on their own sense of place and belonging, fostering a deeper understanding of the complexities of migration and the transformative power of storytelling.
https://labs.onb.ac.at/artspace/echoes-of-experience
To explore all the artworks go to: