November 24, 2021
@
10:00
–
17:00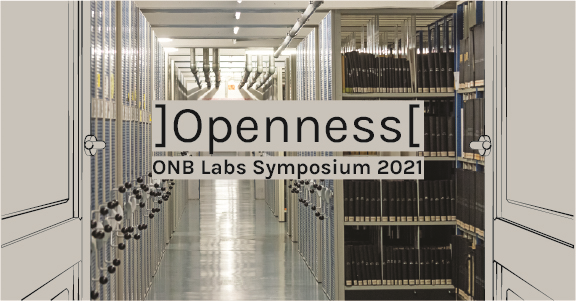 We are pleased to announce the ONB Labs Symposium 2021, which will take place on November 24th, 10:00–17:00 CET.
Registration and Program are online now!
The Austrian National Library (ONB) recently presented its Vision 2035, titled «Wir öffnen Räume» («Opening Spaces»). The ONB Labs Symposium 2021 will take up the theme of openness and relate it to questions concerning openness in Labs of cultural institutions (GLAM Labs):
What does openness mean for GLAM Labs environments, is providing open data enough?
What are the criteria and requirements for openness?
What does openness mean for different user groups?
We will discuss these and related questions in three sessions, addressing different perspectives on openness. In the first session we will discuss the perspectives and requirements of research and education. We will take a closer look at open data for creative use in the second session, with a special focus on the EU co-funded project «Open Digital Libraries». Finally, we discuss strategies for openness in international GLAM Labs.
The ONB Labs Symposium 2021 will take place in hybrid form – you are welcome to join us at the Austrian National Library or take part virtually. Participation is free, but the number of participants is limited.
Program Overview
Session 1:
The perspective of reseach and eduaction (10.45–12.00) with Sylvia Petrovic-Majer (OpenGLAM Austria), Eva Pfanzelter (University of Innsbruck), Sarah Oberbichler and Nina Hechenblaikner (University of Innsbruck), Walter Scholger (University of Graz / ZIM).
Session 2:
The perspective of «Open Digital Libraries» (13.00–14.30) with Partners from the project "Open Digital Libraries" (Royal Library of the Netherlands, National Library of Estonia, Austrian National Library feat. Seth Weiner)
Session 3:
International Library Labs (14.45–16.30) with Sally Chambers (Ghent University), Abigail Potter and Eileen Jakeway (Library of Congress), Ralph Marschall (National Library of Luxembourg) and the ONB Labs Team.
—> For the full program please check the event registration site.
Registration (update 15.11.2021))
The ONB Labs Symposium 2021 will take place as a virtual online conference («online option ticket»)
—> Please register for our Labs Symposium via Eventbrite: Link.
Due to the current Corona situation in Austria the on-site option has been cancelled.
Online Option (Registration open until 23.11.2021, 16.00)
We will use the MS-Teams environment for our online conference. After registration you will receive a confirmation mail. You will receive the link to take part at the web conference on 23.11.2021.
—> Book your free ticket for the «online option».
We are looking forward to seeing you at the event on 24 November 2021!